[ad_1]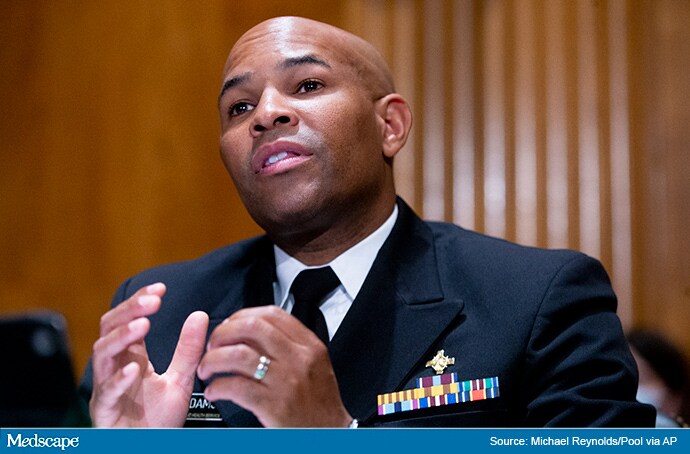 In one of his first moves as president, Joe Biden asked US Surgeon General Jerome Adams, MD, MPH, to resign.
Adams was due to complete his term as surgeon general in September, four years after he was sworn in. Outgoing President Donald Trump nominated Adams, who was Indiana's health commissioner, to oversee the US Public Health Service and its 6000 uniformed personnel and to serve as the nation's top doctor.
Trump had fired the previous surgeon general, Vivek Murthy, MD, in April 2017, when he was midway through his term. After his election this fall, Biden nominated Murthy to return to the Surgeon General's office. The position requires Senate confirmation.
The Washington Post reported on Wednesday that the Biden administration would likely name an acting surgeon general while awaiting Murthy's confirmation.
Adams did not submit a formal resignation, but in a statement on Facebook, he acknowledged that he was leaving the Surgeon General's office. "Thank you for the opportunity to serve this great Nation, as this has been the honor of my life," wrote Adams.
He took heat early in the pandemic for telling Americans to stop buying masks. In a late February 2020 tweet, Adams said, "They are NOT effective in preventing general public from catching #Coronavirus, but if health care providers can't get them to care for sick patients, it puts them and our communities at risk!" The tweet was widely panned and has since been removed.
Even in mid-April, Adams said that wearing surgical-type cotton masks may not protect healthy Americans from becoming infected. He added that it might put them more at risk, as they would be more likely to touch their faces, according to Reuters. Adams did say at the time that the recommendation might be changed one day.
In his statement on Facebook today, Adams said, "I wasn't always right — because no one was, and this virus continues to humble all of us — but I was always sincere in my efforts to speak to everyday Americans, and address the terrible health inequities this virus exposed."
He periodically spoke out about those inequities, most recently pushing for people of color to more fully participate in COVID-19 vaccine trials and publicly discussing the myriad reasons for vaccine hesitancy, including the Tuskegee experiment.
Adams noted his accomplishments in the Facebook post. He issued the first report on smoking cessation in 30 years in January 2020, just before the pandemic struck. And he said that his office "also put out historic Surgeon General's Calls to Action on Hypertension Control, Maternal Health, and Suicide Prevention."
He said those calls to action were reminders of "the other harms Americans face every day." He continued, "we mustn't forget that diseases and health risks rarely impact all communities equally. That's why these Calls to Action specifically mention the groups disparately impacted, and talk about the need to study and address aggravating factors like bias."
Finally, Adams thanked the US Commissioned Corps and the American people, especially "those of you who supported me and my family — my wife who is undergoing cancer treatment, my brother who is struggling to overcome addiction, my mother who suffered a stroke earlier this year, and my kids who sacrificed time with their dad so that he could serve this Nation."
For more news, follow Medscape on Facebook, Twitter, Instagram, and YouTube.


[ad_2]

Source link