[ad_1]

President Joe Biden signed 10 new executive orders on his second day in office that are designed to help roll out his broader plan to fight COVID-19.
"For the past year we couldn't rely on the federal government to act with the urgency and focus and coordination we needed, and we have seen the tragic cost of that failure," said Biden, in remarks from the White House unveiling his 198-page National Strategy for the COVID-19 Response and Pandemic Preparedness. He said as many as 500,000 Americans will have died by February. "It's going to take months for us to turn things around," he said.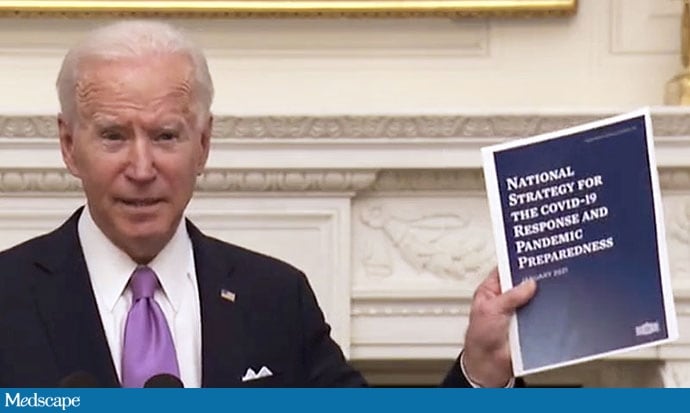 "Our national strategy is comprehensive — it's based on science not politics, it's based on truth not denial," Biden said. He also promised to restore public trust, in part by having scientists and public health experts speak to the public. "That's why you'll be hearing a lot more from Doctor Fauci again, not from the president," Biden said, adding that the experts will be "free from political interference."
While Biden's executive orders can help accomplish some of the plan's proposals, the majority will require new funding from Congress, and will be included in the $1.9 trillion American Rescue package that Biden hopes legislators will approve.
Ten New Orders
The 10 new orders Biden signed on Thursday follow two he signed on his first day in office. One establishes a COVID-19 Response Office responsible for coordinating the pandemic response across all federal departments and agencies and also re-establishes the White House Directorate on Global Health Security and Biodefense that was disabled by the Trump administration.
Another order requires masks and physical distancing in all federal buildings, on all federal lands, and by federal employees and contractors.
Among the new orders will be directives that:
*Require individuals to also wear masks in airports and planes, and when using other modes of public transportation including trains, boats, and intercity buses, and also require international travelers to produce proof of a recent negative COVID-19 test prior to entry, and to quarantine after entry.

Federal agencies use all powers, including the Defense Production Act, to accelerate manufacturing and delivery of supplies such as N95 masks, gowns, gloves, swabs, reagents, pipette tips, rapid test kits, and nitrocellulose material for rapid antigen tests, and all equipment and material needed to accelerate manufacture, delivery, and administration of COVID-19 vaccine.

Create a Pandemic Testing Board to expand supply and access, and to promote more surge capacity and ensure equitable access to tests.

Facilitate discovery, development and trials of potential COVID-19 treatments, and expand access to programs that can meet long-term health needs of those recovering from the disease.

Facilitate more and better data sharing that will allow businesses, schools, hospitals and individuals to make real-time decisions based on spread in their community.

Direct the Education and Health and Human Services departments to provide schools and child-care operations guidance on how to reopen and operate safely.

Direct the Occupational Safety and Health Administration (OSHA) to immediately release clear guidance for employers to help keep workers safe and to enforce health and safety requirements.
The plan also sets goals for vaccination — including 100 million shots in the administration's first 100 days. Biden had already previewed his goals for vaccination, including setting up mass vaccination sites and mobile vaccination sites. During his remarks, Biden said that he had already directed the Federal Emergency Management Agency (FEMA) to begin setting up the vaccination centers.
The administration is also going to look into improving reimbursement for giving vaccines. As a start, the Department of Health and Human Services (HHS) will ask the Centers for Medicare and Medicaid Services (CMS) to consider if a higher rate "may more accurately compensate providers," according to the Biden plan.
"But the brutal truth is it will take months before we can get the majority of Americans vaccinated," said Biden.
As part of the goal of ensuring an equitable pandemic response, Biden will also sign an order that establishes a COVID-19 Health Equity Task Force. The task force is charged with providing recommendations for allocating resources and funding in communities with inequities in COVID-19 outcomes by race, ethnicity, geography, disability, and other considerations.
Finally, the administration has committed to being more transparent and sharing more information. The national plan calls for the federal government to conduct regular, expert-led, science-based public briefings and to release regular reports on the pandemic. The administration said it will launch massive science-based public information campaigns — in multiple languages — to educate Americans on masks, testing, and vaccines, and also work to counter misinformation and disinformation.
The American Academy of Family Physicians (AAFP) applauded Biden's initiative. "If enacted, this bold legislative agenda will provide much-needed support to American families struggling during the pandemic — especially communities of color and those hardest hit by the virus," said Ada D. Stewart, MD, AAFP president, in a statement.
Stewart also noted that family physicians "are uniquely positioned in their communities to educate patients, prioritize access, and coordinate administration of the COVID-19 vaccines," and urged the administration to ensure that family physicians and staff be vaccinated as soon as possible, to help them "more safely provide care to their communities."
For more news, follow Medscape on Facebook, Twitter, Instagram, and YouTube.


[ad_2]

Source link