It's time for a large-scale phase 2 study into whether supplementary estrogen can relieve multiple sclerosis (MS) symptoms in menopausal women with the disease, a neurologist told colleagues at the meeting held by the Americas Committee for Treatment and Research in Multiple Sclerosis.
This kind of research should explore the effects of aging, including in the brain, and "focus on what is preventable – this dramatic and abrupt loss of estrogen in women with MS," said Rhonda Voskuhl, MD, of the Brain Research Institute at the University of California, Los Angeles.
"This is a call to action. There's a huge gap that needs to be filled," she added in an interview. "Not enough attention has been paid to menopause and cognitive issues in MS and even in healthy women."
Research has found that many women with MS experience a decline in function during menopause, she said. "They're having a worsening of their preexisting disabilities," she noted, due to neurodegeneration.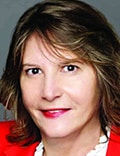 Voskuhl highlighted a 2016 study, for instance, that found postmenopausal women with MS on hormone replacement therapy reported better physical function and quality of life than did their counterparts after adjustment for covariates. She also pointed to a 2019 study that concluded that "natural menopause seems to be a turning point to a more progressive phase of MS."
Estrogen appears to play a significant role. "It's involved in synaptic plasticity," she said. "That's why the disabilities are worsening."
Voskuhl supports a year-long, randomized and controlled study of estrogen supplementation in 150-200 participants. The goal, she said, is "not just to prevent loss and bad things from happening but also make improvements."
In healthy patients, she said, outcomes should include cognitive decline in menopause, cognitive domain outcomes, and region-specific biomarkers in the frontal cortex and hippocampus instead of global cognition and global brain volume. In patients with MS, she said, the focus should be on worsening of disability with emphasis on specific disabilities such as walking and region-specific biomarkers for the motor cortex and spinal cord.
"We need to be looking at cortical gray matter, which we know is responsive to estrogen," Voskuhl said. She led a 2018 placebo-controlled study that found women with MS who took estrogen supplements appeared to experience localized sparing of progressive gray matter, which the researchers linked to improved results in cognitive testing. The findings, the study authors wrote, suggest "a clinically relevant, disability-specific biomarker for clinical trials of candidate neuroprotective treatments in MS."
What about men? Does hormone loss worsen their MS? Voskuhl said there seems to be a connection between lower levels of testosterone and more disability in men with MS. But their situation is different. Loss of testosterone in men is gradual and happens over decades instead of over the short period of menopause in women, she said.
Jennifer Graves, MD, a neurologist at the University of California, San Diego, agreed that it's time for further research into estrogen supplementation in MS. As she noted, "we don't know the exact biological mechanism that might link perimenopause with developing a more progressive type of MS."
She added: "An overall decrease in estrogen may be at play but there are other biological changes around menopause. We must also take care in studies to try to separate out what might be due to ovarian aging versus other types of aging processes that might be happening at the same time."
Voskuhl disclosed that she is an inventor on university patents for use of estriol and estrogen receptor–beta ligands as treatments. Graves reports no relevant disclosures.
This article originally appeared on MDedge.com, part of the Medscape Professional Network.