[ad_1]

Editor's note: Find the latest COVID-19 news and guidance in Medscape's Coronavirus Resource Center.
Three-quarters of patients hospitalized with COVID-19 were still experiencing at least one symptom of the infection 6 months after being discharged, according to a follow-up study involving 1,733 patients.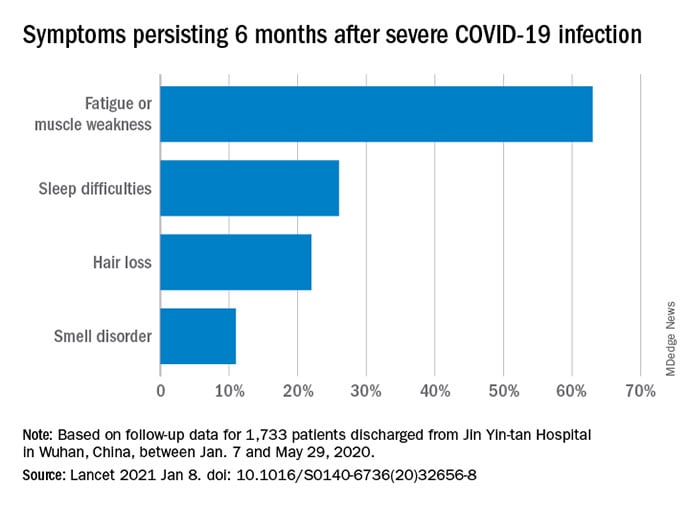 "Patients with COVID-19 had symptoms of fatigue or muscle weakness, sleep difficulties, and anxiety or depression," and those with "more severe illness during their hospital stay had increasingly impaired pulmonary diffusion capacities and abnormal chest imaging manifestations," Chaolin Huang, MD, of Jin Yin-tan Hospital in Wuhan, China, and associates wrote in the Lancet.
Fatigue or muscle weakness, reported by 63% of patients, was the most common symptom, followed by sleep difficulties, hair loss, and smell disorder. Altogether, 76% of those examined 6 months after discharge from Jin Yin-tan hospital — the first designated for patients with COVID-19 in Wuhan — reported at least one symptom, they said.
Symptoms were more common in women than men: 81% vs. 73% had at least one symptom, and 66% vs. 59% had fatigue or muscle weakness. Women were also more likely than men to report anxiety or depression at follow-up: 28% vs. 18% (23% overall), the investigators said.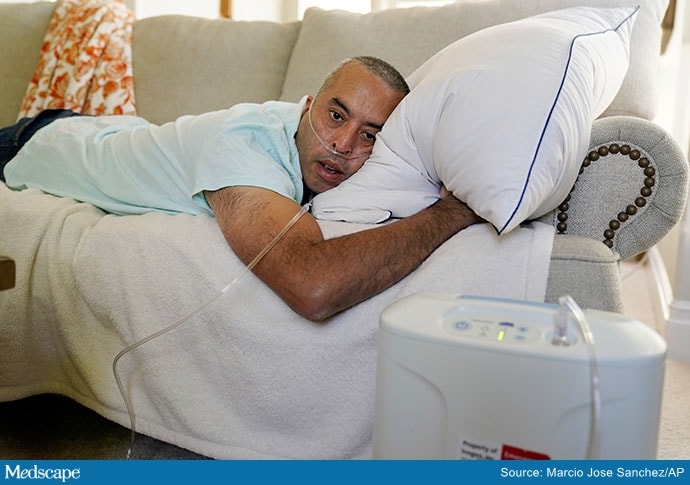 In November, Antonio Gomez needed the help of an oxygen tank to breathe while recovering at home in California after a 3-week bout with COVID. He had to be hospitalized for 12 days.
Patients with the most severe COVID-19 were 2.4 times as likely to report any symptom later, compared with those who had the least severe levels of infection. Among the 349 participants who completed a lung function test at follow-up, lung diffusion impairment was seen in 56% of those with the most severe illness and 22% of those with the lowest level, Dr. Huang and associates reported.
In a different subset of 94 patients from whom plasma samples were collected, the "seropositivity and median titres of the neutralising antibodies were significantly lower than at the acute phase," raising concern for reinfection, they said.
The results of the study, the investigators noted, "support that those with severe disease need post-discharge care. Longer follow-up studies in a larger population are necessary to understand the full spectrum of health consequences from COVID-19."
This article originally appeared on MDedge.com, part of the Medscape Professional Network.


[ad_2]

Source link