[ad_1]

Stephanie Flores-Pollack, MD, a dermatology resident at the University of Pennsylvania, Philadelphia, began considering the field of dermatology when, as part of the Latino Medical Students Association, she was invited by Amit Pandya, MD, to a pizza party and dermatology discussion during her first year of medical school at the University of Texas Southwestern Medical Center, Dallas.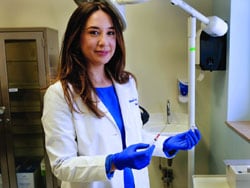 There, she met three Latinx residents who were part of the University of Texas Southwestern dermatology program. "I was so excited to hear their stories, where they came from, and how they ended up in dermatology," she said. Dermatology had not been on her radar screen. Now there was a spark.
Volunteering at the free Agape dermatology clinic in Dallas later that year sharpened her interest. "For the first time, I really saw myself working in the field. Hearing patients' stories and what they went through with what many people might think are very simple skin diseases made me realize there was potential to make a big impact in a person's life," said Flores-Pollack, who immigrated from Colombia with her family when she was 15.
Flores-Pollack's journey into dermatology as an underrepresented-in-medicine (UIM) physician-in-training offers a window into a movement underway that aims to create a diverse dermatology workforce – one that reflects the ethnic and racial make-up of the population. It's a movement that involves early outreach to medical students, stepped-up mentorship and sponsorship, implicit bias training, and holistic review of residency applicants.
There is no published study of all the changes being made – of how many dermatology programs have new outreach programs, for instance, or new approaches to resident application reviews. However, participation in the American Academy of Dermatology Diversity Champions program increased significantly between 2019 and 2020, and a sizable body of articles and editorials on diversity have been published in the dermatology literature in recent years, including at least several on holistic review of resident applications. Five years ago, there were few publications, sources said.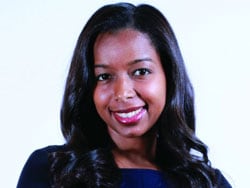 "The conversation is happening now at multiple levels, including in our peer-reviewed literature, where people are looking objectively at…how we can make changes for the better," said Nada Elbuluk, MD, director of the dermatology diversity and inclusion program at the University of Southern California, Los Angeles.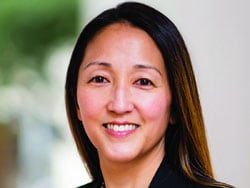 Unpublished findings also indicate that the number of UIM dermatology residents is inching upward. "Residency selection may not be on everyone's mind, but an understanding of how we select people into our specialty is something every derm should know about and care about," said Kanade Shinkai, MD, PhD, professor of dermatology at the University of California, San Francisco, and editor in chief of JAMA Dermatology.
The Wake-up Calls
The impetus for current changes first came in 2015, when Bruce Wintroub, MD, professor and chair of dermatology at UCSF, and interim dean of the medical school at the time, delivered a passionate plenary lecture at the annual AAD meeting about the lack of equity, diversity and inclusion in the specialty and the role of unconscious bias. Moved in part by a "White Coats for Black Lives" die-in by medical students on his campus following the killing of unarmed Black men, Wintroub called on his colleagues to recruit more UIM physicians into the specialty and to make the field more inclusive.
In 2016, Wintroub joined Pandya and two other academic dermatologists in authoring a commentary, published in the Journal of the American Academy of Dermatology, about the need to step up efforts and make diversity a priority. Dermatology was among the least ethnically and racially diverse specialties, second only to orthopedics, they wrote, with black dermatologists making up only 3% of all dermatologists and Hispanics only 4.2% in the United States, compared with 12.8% and 16.3% in the U.S. population, respectively.
For the next year or so, they and others from six academic institutions formed an incubator of sorts, actively tracking and sharing actions they were taking to improve diversity and the practice environment. "We wanted to learn from each other, then disseminate information to other programs," said Pandya, who chaired the AAD diversity task force and led the self-branded "diversity champions." (Pandya maintains his appointment at UTSW but now practices at the Palo Alto Foundation Medical Group in Sunnyvale, Calif.)
In 2017, at a President's Conference on Diversity in Dermatology called for by then-AAD president Henry Lim, MD, leaders of the Association of Professors of Dermatology, the Society for Investigative Dermatology, and other dermatology organizations agreed on key action items, which they described in JAAD in 2018: Helping to increase the pipeline of UIM students applying to medical school, increasing UIM medical students' early exposure to dermatology, and increasing the number of UIM students recruited into dermatology residency programs.
Diversity in the physician workforce has been shown to improve outcomes for all patients, and is important for ameliorating health care disparities and improving satisfaction and care for all patients, the authors of the 2018 paper wrote. "Multiple studies," they noted, "have shown that UIM physicians are more likely to practice in areas where health care disparities exist."
For specific proposed actions, the leaders attending the diversity conference drew largely upon the "diversity champions'" experiences, and agreed to fund and officially develop a diversity champions program. They also decided to invest in "bioskills" workshops for undergraduates and medical students at historically black colleges and universities, and other institutions at historically black colleges and universities at medical schools through a partnership with Nth Dimension – an organization founded in 2004 to bring more women and underrepresented minorities into orthopedic surgery.
In the last 2 years, more than 450 UIM students have attended these bioskills workshops, getting a taste of basic dermatology procedures and interacting with dermatologists.
And in September 2020, 157 dermatologists representing 80 programs throughout the country attended the second AAD Diversity Champions conference, up from 84 attendees and 30 programs in 2019. On the agenda: Discussions of holistic application review, mentorship, recruitment of UIM faculty, and a 2-hour session on microaggressions. Similar programs are being led by other dermatology organizations.
(UIM was coined by the American Association of Medical Colleges to describe racial and ethnic populations that are underrepresented in medicine relative to their numbers in the general population.)
Achievement of racial/ethnic diversity "won't happen unless the field actively encourages people to look at it – which is not what we were doing," Wintroub said in an interview. "I think that's been the major change. We're opening the door and saying: 'We want you and we welcome you.' "
Rethinking Traditional Mentorship
For Flores-Pollack, the door almost shut when she began to hear from fellow medical students that dermatology is "too competitive…a field for only the top people in the class." She felt doubt settling in.
"I had peers who were throwing a lot of money toward prep materials…peers who had siblings in medicine and had started studying from day one [for the step 1 exam]," she said. "I thought, was it really worth the effort? Do I really want to be perfect to get into the field when other fields would be happy to have me as I am right now?"
Her immense enjoyment of an "Art of Observation" elective course helped renew her interest in the field; it reinforced her visual abilities as well as the potential for her to address implicit bias as a dermatologist. She sought Pandya's guidance and sponsorship to help her grow connections, polish her resume, and present herself to other faculty.
Doors were opened, she said, for her to secure a 1-year research experience before her final year of medical school with UTSW faculty, and then a 1-month rotation/mentorship with William D. James, MD, professor of dermatology at the University of Pennsylvania, an institution with a history of diversity initiatives and a longstanding skin of color program.
Flores-Pollack sees her experience reflected in the findings of a recently published study — a thematic content analysis of telephone interviews with applicants to the UTSW dermatology residency program during the 2013-14 and 2014-15 application cycles. Of the 44 applicants who participated in the study, 13 were UIM applicants.
Six of the seven UIM applicants who matched were involved in a pipeline or enrichment program — and were exposed to the field early — compared with one or two of the six UIM applicants who did not match. Underrepresented applicants were more often discouraged from applying (54%) — told, for instance, that they could better serve their communities through other specialties — than were non-UIM applicants (13%). They also were affected more often by a lack of equitable resources, according to comments made by 70% of applicants (UIM and non-UIM).
Also notably, the investigators said, all of the UIM applicants who matched (and the majority of non-UIMs who matched) reported having a mentor during the process of applying, compared with 44% of those who didn't match.
Rebecca Vasquez, MD, assistant professor of dermatology at UTSW, who led the study, was herself a mentee of Pandya. "He believed in me and gave me the courage to consider dermatology," she said. ( Vasquez was one of the Latinx women who inspired Flores-Pollack, in turn, when they met at Pandya's pizza party. Flores-Pollack assisted with the research and was a coauthor of the study.)
Amy McMichael, MD, professor and chair of dermatology at Wake Forest University, Winston-Salem, N.C., said that dermatology as a field has traditionally been "very good at mentoring." Many of the dermatology societies have long had mentorship programs, for instance, that guide medical students, and sometimes residents, through defined experiences or through periods of time.
But she advocates going deeper. "When it comes to sponsorship, we fall a little short," she said. "Sponsorship is about promoting that person to the next level, making sure they achieve what they want to achieve…putting them up for opportunities they may not have known existed. It's continuous and focused."
Olabola Awosika, MD, a fourth-year dermatology resident at Henry Ford Health System, Detroit, said her interest in dermatology was solidified during her participation in the AAD's month-long mentorship program after her second year of medical school at Howard University, Washington. However, it wasn't until her fourth year, when she did an away rotation at Wake Forest, that she realized that "gaining access to the field" takes years of mentorship, research opportunities, and networking. It was too late.
After initially not matching, she did a rotation at Johns Hopkins in dermatology during an internship year, followed by a 2-year research fellowship at George Washington University, Washington. As does Flores-Pollack, who now mentors medical students. She also serves on the Women's Dermatologic Society diversity committee, which is now developing initiatives to help UIM dermatologists "become upwardly mobile in dermatology [after residency], so they have a seat at the table in various settings."
Holistic Review for Residency
Vasquez, who grew up in South Texas in an uninsured family that received most of its medical care across the border in Mexico, believes that the "biggest stride being made today" with respect to diversity in the dermatology workforce — and in the larger physician workforce — is increased understanding of the role of social and cultural capital.
"We'd never really talked about this concept…about how, if you don't have the same upbringing, education, and resources, you're already behind…and you may not do as well on standardized tests," she said. "Now people are listening to it and understand it. That's why more programs are looking at how to practice a more holistic approach to selecting applicants to interview."
Some dermatology programs — at Wake Forest, UCSF, USC, Vanderbilt, and George Washington University for instance — have eliminated the use of U.S. Medical Licensing Examination step 1 scores and Alpha Omega Alpha Medical Honor Society status as filtering/screening metrics. Some also take a "second look" at UIM applicants.
Overall, those making changes are looking "at everything the applicant brings to the table — their story, their experiences," said Elbuluk. "We want to understand the full picture of who they are and their journey to becoming a physician."
Implicit bias training for members of residency review committees is becoming more common, as is such training across the board in dermatology departments. "We have to bring it to the forefront so that we can create more inclusive environments," said Sharon E. Albers, MD, a dermatologist at Vanderbilt University Medical Center, Nashville, Tenn., who serves as the dermatology department's diversity liaison to the medical school, and who, as a former faculty member of Meharry Medical College, remains engaged with the historically black institution.
One of her recent efforts, inspired by participation in the diversity champions program, has been developing pipeline programs to speak to middle and high school students about medicine and dermatology. For now, however, she credits a holistic review process for change. Last year, three of the five matched dermatology residents at Vanderbilt were UIM physicians – unprecedented for the institution, Albers said, and "evidence that holistic review works if you're very intentional about it."
Vasquez has analyzed data from the Accreditation Council of Graduate Medical Education and says that UIM dermatology residents comprised 8.0% of the total in 2019, marking an improvement over the prior 7 years. "We've introduced so many changes at the same time," making it difficult to discern what's most impactful, she said. "But something is working."
(The AAMC, which has invested in pipeline programs for more than a decade and has championed holistic medical school admissions, states in its 2019 diversity data report that efforts to improve diversity in medicine have made "only marginal differences" – and that Black males in particular continue to be significantly underrepresented in medical schools. Persistent, structural racism was a common theme in the association's 2015 report on Black males in medicine.)
Efforts to diversify the workforce — particularly holistic review — haven't been without detractors. "It brings reaction," Wintroub said. "Some people think you're lowering quality in the field…but that's just not true."
Diversity in the dermatology workforce is important not only for the care of patients from diverse backgrounds, but "perhaps more importantly, it brings new ideas and views and experiences into the field," he said. "It pushes us to think in new directions…that can only make our field better and richer."
"We need to make sure our workforce is representative of the patients we serve — but also that all derms can manage patients of all skin types and demographics," Shinkai said. "And we need more diversity in the leadership of our departments and dermatology organizations…inclusivity needs to extend all the way to the highest reaches of our specialty."
Adam Friedman, MD, professor and interim chair of dermatology at George Washington University and director of the department's diversity, equity, and inclusion committee, agreed. "We need to both make sure our workforce mirrors the patients we serve, and said workforce is prepared to manage patients of all skin types and demographics. We need to cover the spectrum, from revamping medical education and mentorship opportunities to advancing diversity in the leadership of our departments, institutions, and societies. Addressing only part of the puzzle will not and can not be enough."
This article originally appeared on MDedge.com, part of the Medscape Professional Network.


[ad_2]

Source link