[ad_1]

Cleavon Gilman, MD, 41, has had a speech impediment since he was young. He has trouble with certain sounds, such the "st" in "stutter." That's never stopped him from making his voice heard, including by high-profile individuals, such as incoming President Joe Biden and Oprah Winfrey.
Thanks to just one tweet, Gilman went from finishing residency in the summer of 2020 to being happily employed to being fired to becoming somewhat famous to recently being rehired by the same hospital that let him go. As he restarts his career with a few celebrity friends and an incredible story, the Iraq War veteran has no plans to stop speaking out.
This past fall, as COVID-19 cases began rising again, Gilman, an emergency medical physician at Yuma Regional Medical Center in Yuma, Arizona, took to Twitter to decry the conditions he was witnessing. "Just got to work and was notified there are no more ICU beds in the state of Arizona," Gilman tweeted on the evening of November 22 as he started a night shift. The next day, he made two discoveries: His Tweet had gone viral, and Yuma Regional Medical Center would no longer allow him to report for duty.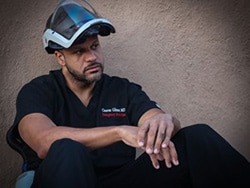 By the time The Arizona Republic covered the story on December 10, his star was already rising beyond the Grand Canyon State. That was pretty evident when President-elect Joe Biden called him. The two discussed their similarities. Biden also has a speech impediment, and his late son, Beau Biden, served in Iraq. They discussed the future of the pandemic response. "He has an actual plan in place," Gilman says. "It was really great to know that I was going to have an ally in this war against this virus."
Biden wasn't the only one who offered support. When she found out Gilman had faced repercussions for sharing his experiences on the front line, Oprah tweeted to offer Gilman and his family an all-expense paid vacation once the pandemic is over. He says that they're thinking somewhere tropical. "My DMs are filled with some very important people, and it's just been growing," Gilman says.
As Gilman's story spread, the public pressure on Yuma Regional Medical Center mounted. The hospital allowed Gilman to return to duty in December, calling the situation a "misunderstanding." In its public statement, the hospital said, "There is no question that our nation's COVID situation is serious. While [Gilman] is not speaking on behalf of YRMC, we respect Dr Gilman's right to share his personal perspective on the pandemic."
Gilman initially debated not returning. But he says that while on the sidelines, four of his colleagues contracted COVID-19, leaving his community even shorter staffed. Although he says Biden's call and Oprah's tweet have left him starstruck, it's his neighbors in Yuma who continue to give him purpose.
As he rejoins the hospital that shut him out and looks toward a future with a supersized social media platform, Gilman says he has no plans to stay quiet. "This is a pandemic, and it's not being addressed properly," he says. "There [is] this moral obligation to speak the truth, as I had been speaking the truth since March. I'm just not that type of person to not speak up when people are dying and it's preventable."
Changed by War
Gilman grew up poor in Lakewood, New Jersey, an ethnically diverse community of Blacks, Puerto Ricans, and Hasidic Jews. His mother was White, and his dad, whom he never met, was Black. In the 1990s, many in his community became addicted to black tar heroin. Some contracted HIV/AIDS as a result. Gilman's stepfather, Edgar Rodriguez, died from an overdose.
Although Gilman got good grades in school, he felt ostracized by his classmates — bullied for his mixed-race identity and his speech impediment. He dropped out of high school and looked for work.
One day, Gilman was walking with the license plates for his car. A cop stopped him on the street. The policeman assumed the plates had been stolen. During the encounter, Gilman was seated on the sidewalk. He looked up and saw a billboard. "It said, 'Join the Navy, See the World,' " he says. "I ended up joining the next day…. I knew I had to leave, because I was going to get locked up, I was going to be imprisoned."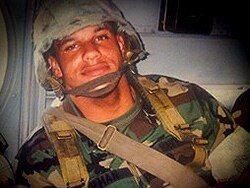 Gilman eventually became a hospital corpsman and began training in Illinois in 1999. The 800-page manual he was provided was wide ranging. "What's great about the military is you get to do things you don't get to do in the outside world," Gilman says. He learned how to intubate patients, treat burns, and even sanitize water.
On September 11, 2001, Gilman was working in a cardiology unit at the Walter Reed National Military Medical Center, in Bethesda, Maryland. On the TV in a patient's room, he saw a plane fly into the World Trade Center. "At that moment, I was like, s—, we're going to get deployed, y'all." He was right. Within a few years, Gilman was deployed with the Marines to the Al Asad Airbase in Iraq.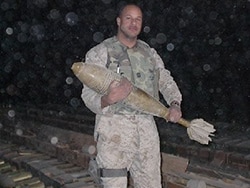 At the base, Gilman helped run a shock trauma platoon — essentially, a hospital for stabilizing patients before they could be transferred — across the street from his barracks. "We would run over if we heard choppers and treat the patient," he says. The hardest part was moving the dead to a freezer for storage. "Carrying a person who's your age, who's young…you just feel the fragility of life."
Gilman's time in Iraq left him with posttraumatic stress disorder. Fireworks sent him into a panic, he couldn't watch movies that depicted war, and he had nightmares about uncovering his family members beneath the blankets of wounded soldiers. But it was "really the sounds and the smells," Gilman says. "Hearing people cry and whimper…and the smell of blood, the smell of burnt flesh, these are the things that are there with you. And they change you."
Med School: "Harder Than Being in Iraq"
When Gilman returned to civilian life in January 2005, he decided to become a doctor. He went straight to the registrar's office at a university in San Diego with the intention of enrolling. Office staff asked about paperwork, diplomas, and SAT scores — a test Gilman had never heard of.
They directed Gilman to a nearby community college, where he tested out of many entry-level requirements. He enrolled in science courses and started to learn how to navigate the higher-education system. "I had never really looked toward the future like that before," he says.
From there, Gilman transferred to the University of California, Berkeley, where he completed his pre-med coursework while majoring in American studies. "I wanted to know more about why I was deployed to Iraq," he says. In 2011, he enrolled at the University of California, San Francisco, School of Medicine in the Program in Medical Education for the Urban Underserved.
Those 5 years were some of the most challenging of Gilman's life. "It was harder than being in Iraq," he says. He had to memorize a massive amount of information while navigating a system — and city — that felt as if they weren't designed for people like him. "There were not a lot of people of color in San Francisco," he says. "I really felt my [color] there."
With the help of friends and his fiancée, Gilman graduated and began a fulfilling residency in emergency and trauma medicine at the New York–Presbyterian Hospital, New York City. He found great mentors, and the city allowed Gilman to "melt into the crowd and not think about [color] there," he says. "That reduced the cognitive burden on me."
One of his mentors was Wallace Carter, MD, an associate professor of clinical emergency medicine at Weill Cornell and Gilman's residency director. Carter clearly remembers meeting Gilman for the first time. "He's bigger than life, literally and figuratively," Carter says, but "inside this huge body, [there couldn't be] a more gentle soul."
Throughout his residency, Gilman demonstrated a fierce determination to learn and an aptitude for teaching. But Carter says Gilman has an even greater virtue: his commitment to his patients. Carter remembers a patient who threatened physical violence against the staff. "All of a sudden [this patient] is having a conversation with Cleavon as if they're lifelong friends," Carter says. "That's a God-given gift. You can't teach that…. Whether you're in prison, a homeless guy, a CEO — it doesn't matter. He respects you as a person."
"Not Afraid" of the Future
When the pandemic first surged in New York City, Gilman was still in his residency. He began to write about the surreal experience on his website and Facebook. "When I deployed to Iraq and I came back home from that experience, I regretted not journaling," he says. "I promised myself [that] if I was in a war again or in a challenging situation, I would keep a journal about it." He documented the toll on his patients and hospital staff.
By the summer, as Gilman graduated from residency and moved with his fiancée and their two daughters (ages 11 and 13) to Arizona, he had changed his plans for chronicling the events. He could no longer invest 2 or 3 hours a night on his online diary, so he decided to rely more heavily on tweets. His following quickly grew from 3000 to more than 136,000.
After the one that went viral — when Yuma Regional Medical Center barred Gilman from working — his family's plans for the future were thrown into disarray. "My fiancée was under a lot of emotional stress," he says. "She was worried that, when the dust settled, I'd have this blemish on my career." But Gilman says that, so far, his work has picked back up without a hitch. His team was excited to have him back, and he says that frontline providers like him rarely interact with the hospital administration that locked him out.
Still, friends and family harbor concerns. "I think [the public pressure] will probably die down and they'll find a way to run Cleavon out of town," says Gilman's medical school classmate Martín Escandón, MD, MPH. "I think the other important question to ask is, Would this happen if this wasn't Cleavon, if Cleavon was White or he had been there longer?"
Regardless of what happens next in Arizona, Gilman's national following has continued to grow. He hopes that that will continue long after the COVID-19 crisis abates. Gilman is constantly scouring direct messages for stories to amplify, from teachers whose students won't wear masks to janitors and bus drivers whose viral exposures are often overlooked. Since the storming of the US Capitol on January 6, Gilman has been actively working to publicly identify those involved.
The events of the past 10 months have forced Gilman to reflect on his values — and his future goals. At one point in the pandemic, he said he even considered running for office. He has since decided that politics are too "corrupt" and that the electoral process places too much emphasis on fundraising. Instead, Gilman believes he can continue to use the resources already at his disposal — his medical training and his social media following — to make a difference.
"The pandemic is going to be over, but the health disparities are not going to be over," he says. "There are plenty of things to talk about. There's border health, there's health in prisons, there's drug prices. There's always things to talk about, and hopefully I'll be the person they trust to get that information from."
Eleanor Cummins is a freelance journalist whose work runs the gamut of science. Her work has appeared in Vox, National Geographic, and The Atlantic.
For more news, follow Medscape on Facebook, Twitter, Instagram, and YouTube.


[ad_2]

Source link