[ad_1]

Editor's note: Find the latest COVID-19 news and guidance in Medscape's Coronavirus Resource Center.
New COVID-19 cases in children fell by almost 46,000 last week, returning to the gradual decline that began in mid-December, according to new data from the American Academy of Pediatrics and the Children's Hospital Association.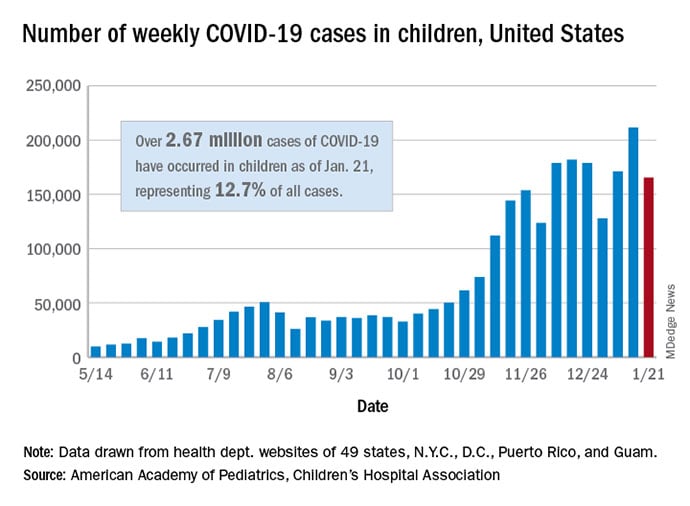 The 165,000 new cases reported during the week of Jan. 15-21 were down by almost 22% from the previous week's 211,000, when the new-case count reached its highest point in the pandemic, the AAP and CHA said in their weekly COVID-19 report.
Cumulative cases in children now stand at just over 2.67 million, and children represent 12.7% of all COVID-19 cases reported by 49 states (excluding New York), the District of Columbia, New York City, Puerto Rico, and Guam. For the week of Jan. 15-21, children made up 14.8% of all new cases, the highest proportion since late September, the AAP/CHA data show.
The cumulative rate of infection among children is up to 3,556 per 100,000 nationally, with states ranging from 943 per 100,000 in Hawaii to 8,195 in North Dakota. California has the most reported cases at 383,000, while Vermont has the fewest at 1,820, the two organizations reported.
There were 14 more deaths among children in the last week, bringing the total to 205 in the 43 states (plus New York City and Guam) reporting such data. Children represent just 0.06% of all coronavirus-related deaths, and only 0.01% of all cases in children have resulted in death, the AAP and CHA said. There are still 10 states where no children have died from COVID-19.
Although severe illness appears to be rare in children, the AAP and CHA noted, "there is an urgent need to collect more data on longer-term impacts of the pandemic on children, including ways the virus may harm the long-term physical health of infected children, as well as its emotional and mental health effects."
This article originally appeared on MDedge.com, part of the Medscape Professional Network.


[ad_2]

Source link